Fortified Home and Roofing Solution for New Orleans
When you opt for Above All Construction, LLC, you're choosing a comprehensive package of construction enhancements aimed at safeguarding your home against extreme weather conditions. Each Above All Construction, LLC solution incorporates specialized improvements customized to provide the precise level of protection your home needs, based on the specific weather challenges it encounters.
Above All Construction, LLC offers a solution that can fortify your home and ensure it is well-equipped to withstand the challenges posed by severe weather.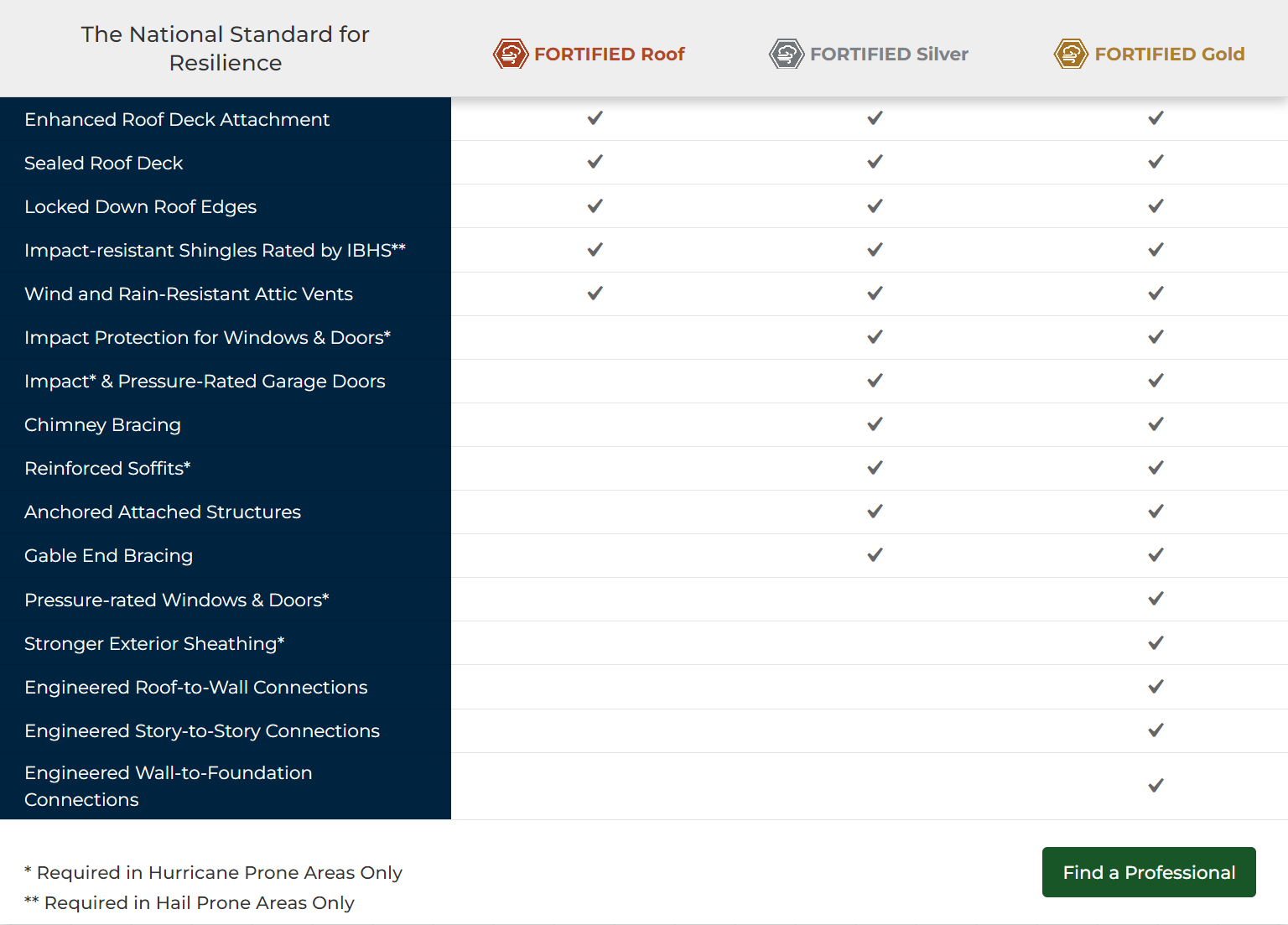 Louisiana Fortify Homes
Introducing the Louisiana Fortify Homes Program. This program provides eligible homeowners with financial assistance of up to $10,000 to enhance their roofs to meet the rigorous standards established by the Insurance Institute for Business & Home Safety. The initiative aims to support Louisiana homeowners in reinforcing their roofs, ensuring they can effectively withstand the powerful winds associated with hurricanes.
Louisiana Fortified Home Grant Eligibility
Before applying for the Louisiana Fortify Homes Program, homeowners should familiarize themselves with the following details and requirements. Should you have any questions regarding these particulars, please don't hesitate to reach out to us:
Eligibility is limited to primary residences, and homeowners will be required to provide verification of a homestead exemption during the application process.
If the home is located in a Special Flood Hazard Area, homeowners must provide proof of an in-force wind insurance policy and in-force flood insurance policy.
Mobile homes, condominiums, and new construction homes are not eligible for the Louisiana Fortify Homes Program.
A duplex or similar structure can qualify if it is the homeowner's primary residence and they can prove they have a homestead exemption on the property.
The home must be in good condition, as determined by a FORTIFIED™ Evaluator. Homeowners are responsible for the evaluation fee, typically ranging from $300 to $500.
The Louisiana Fortify Homes Program grants will not be awarded to homeowners who select a contractor and have the project under construction before getting approval. Approval must be received before the grant can be awarded.
For grant funding to be disbursed, the completed project must meet the FORTIFIED™ Roof standard.
Grant funds will be directly distributed to contractors. Homeowners are responsible for covering all costs that exceed the full grant amount.
Louisiana Fortified Homes Benefits
Stronger Roof Edges
To mitigate the risk of wind uplift and the potential tearing away of the roof edge, FORTIFIED™ mandates specific materials and installation techniques, such as a wider drip edge and a fully adhered starter strip.
Sealed and Protected Roof Deck
A necessary measure for FORTIFIED™ roof decks is to apply sealing to safeguard against the potential water damage that usually occurs when the roof coverings are dislodged, exposing the wooden decking beneath.
Enhanced Fastening
FORTIFIED™ requires ring-shank nails instead of conventional smooth nails, significantly bolstering the roof's resistance to high winds and effectively doubling its strength.
High Impact-Resitance Shingles
For the FORTIFIED™ designation's elective hail enhancement, the standard necessitates more durable shingles capable of enduring hail of up to two inches in diameter. This provides enhanced safeguarding for your residence.
Strengthen Your Roof in New Orleans Today - Call Now for a Free Consultation!
Take the first step towards fortifying your roof by scheduling a consultation or requesting more information about our services. Our friendly and knowledgeable team is ready to assist you and address any questions you may have. Contact us at (504) 446-3271 to secure the protection your roof deserves.
Get started now by talking to a kitchen remodeling expert and requesting your free quote